About The Owner – Laura Simoncini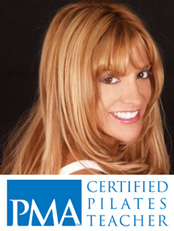 Laura is the owner and director of Laura's Ultimate Pilates. With over 25 years experience in the fitness industry managing and directing premier fitness centers, Laura has put together some of the most innovative Pilates programs available today.
Laura is a dedicated professional who is passionate about inspiring and motivating people to achieve and exceed their fitness goals. Through her unique style of teaching and dynamic positive energy, Laura delivers a workout that produces dramatic results and major transformation to her client's bodies.
"Pilates will change your body from the inside out."
Laura's wealth of knowledge and her extensive career experience in the fitness industry has allowed her the experience of working with all fitness levels, from the novice exerciser to the professional athlete.
Originally from New York, a former dancer and gymnast, Laura graduated from St. John's University. Laura is a National Certified Pilates Teacher certified through the National Pilates Certification Program/Pilates Method Alliance. She is also certified through Polestar Pilates, holding certification in beginning-advanced level Reformer, Cadillac, Chair, Barrel and Mat. Laura is certified through the American Council on Exercise as a personal trainer and group fitness instructor. In addition, she is a certified Johnny G. Spin instructor and she is an active member of the Pilates Method Alliance.
Laura is continually updating and advancing her education through extensive workshop training, seminars and conferences. She always seeks out new challenges which allow her to be on the cutting edge and enables her to be creative and innovative as she shares here extensive knowledge and passion for Pilates with her clients.
Laura is very committed to the power of Pilates and its connection to our minds, our body and our spirit. Her philosophy is "whatever the mind can conceive it can achieve."
Laura has twin boys and resides in Parkland.