Below is a list of our current classes. If you do not see a class you like or have an idea for a new class, please let us know. Our goal is to provide the experience our clients are seeking!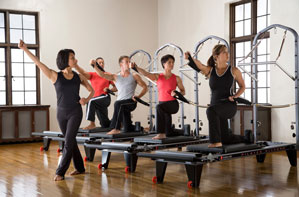 PRIVATE & SEMI-PRIVATE INSTRUCTION
We offer private and semi-private sessions offered in our exclusive Pilates training area. All private clients will be integrated to all of our Pilates apparatus. Reformer, Cadillac, Wunda Chair, Spine Corrector and Barre. Each client will be evaluated and given a customized workout based on their own specific needs.
---
GROUP EQUIPMENT CLASSES
Each class member has their own Pilates equipment set-up for their own exclusive use. Each Pilates station includes: reformer, tower, jumpboard, spine arc, bosu ball, exercise balls, ultra-fit circle, bands and hand weights to maximize your Ultimate Pilates workout! We offer the most innovative and advanced state-of-the-art equipment to provide for the . . .
ULTIMATE PILATES EXPERIENCE!
---
REFORMER / TOWER COMBO LEVEL I
In this class you will learn the basic principles behind Pilates and the proper technique and set up of a group equipment class. You will work to build a strong foundation to build your Pilates Principles. This class is ideal for beginners as we work towards ensuring accuracy and stability before moving towards more advanced work.
This class is also perfect for those students who have been taking group classes but would like to review their form and address certain issues and modifications to get the most out of their workout.
---
REFORMER / TOWER COMBO
Work your body like you never thought possible! Using the combination of these two apparatuses you will lengthen and strengthen muscles without adding bulk.
This workout is designed to work those deepest abdominal muscles while dramatically sculpting your legs, butt, arms and back. You will leave this class having worked the entire body – feeling totally exhilarated!
WORK MUSCLES YOU NEVER THOUGHT YOU HAD!
---
REFORMER / YOGA COMBO
Come for an unforgettable workout combining Reformer Pilates and Yoga, blended into one class! This is a class that blends dynamic sequences which burn serious calories, while at the same time lengthening, toning, and increasing flexibility. This is your chance to combine challenging, yet fun movements that create an opportunity to increase strength and endurance while building deep inner strength.
YOU WILL LEAVE THIS CLASS FEELING MENTALLY & PHYSICALLY BALANCED, AND FILLED WITH POSITIVE ENERGY!
---
REFORMER CARDIO INTERVAL
This class is perfect for students who want to get the benefits of cardio fat burning and body sculpting all in one class. Incorporating intervals of the Reformer Jumpboard, sculpting exercises on the Reformer, Barre, Bosu Ball , hand weights and various props we get the heart pumping and rev up your metabolism. This is a low impact cardio workout good for all levels. Average calorie burn is 400-700 calories.
BE PREPARED TO SWEAT!
---
THE "ULTIMATE"
As the name implies, this is your "ultimate" class. Get ready for the most intense and unique body sculpting experience. This class combines it all! We use the Reformer, Tower, Mat, Barre, Jumpboards and various props in this most comprehensive, inspired class. This class will take you to the next level!
(Intermediate and Advanced Students Only)