In 10 sessions you will feel the difference.
In 20 sessions you will see the difference.
In 30 sessions you will have an entirely new body.
– Joseph Pilates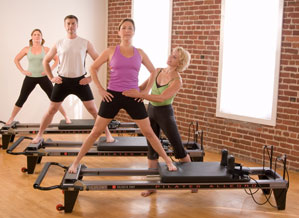 All movement is directed by the abdominals resulting in a strong core and "a very well defined six pack."
Elongating your spine with every movement resulting in a stronger and more flexible spine. Your posture will improve dramatically.
A very lifted derriere complimented by well-toned and sculptured hips. We will get those hard to reach areas that will make your hips and derriere look amazing!
You will work muscles you never thought you had!
Long, lean dramatically sculptured thighs. Your thighs will be gorgeous and sculptured, resulting in a long lean look without any of the bulk.
We create "Dancer's Legs" here at Laura's Ultimate Pilates!
Your arms are challenged in so many different ways resulting in dramatically sculptured arms, shoulders and back.
You will burn fat and lose unwanted inches while reving up your metabolism for increased weight loss and boosting energy levels!
You will shrink your waist line and create the Pilates waist line that you have always dreamed of  that is defined, carved, chiseled and curved in all the right places.
You will work the body as a whole, resulting in a very well-balanced and conditioned body, eliminating muscular imbalances and preventing injury.
For those who play sports, both leisurely and professionally, Pilates will improve your game as you will learn to derive all movement from your "powerhouse", your "core", your "girdle of strength."
Golfers, tennis players, equestrians and all sports-minded people will benefit from our unique and innovative program.
Pilates for wellness, post rehab and osteoporosis
Add yourself to our mailing list to get special offers and promotions!